7 Major Electronic Repairing Business Mistakes To Avoid
The New Year has come and I wish all of you Happy New Year 2009! I guess some of you may have set your resolution for this year to set up your own repairing company. For those of you who are serious of running your own electronic repairing business I guess it is not easy as just register a company, wait for customers/find customers, do the repair and bill the customers. I know that you are already good in the electronic repair work and eagerly to run your own business but besides all these you need to know some of the hidden things that I'm going to explain to you in order to become successful in this electronic repairing line.
Here are the 7 major electronic repairing business mistakes to avoid so that you could see success in the shortest time.
Mistake No 1- Did not do enough of market research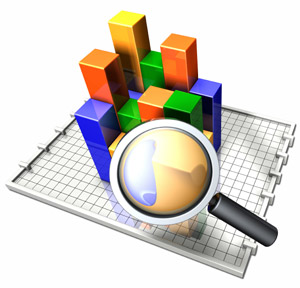 Yes it is true; if you did not gather enough information of market research about the electronic repairing trend you are in fact inviting disaster to your company. You need to know the trend and the rough volume of the current market share. You need to do some homework before you quit your job and start your own business. You need to survey the area (industrial park, housing area and etc), check out how many competitors are there in a particular area. If there are too many I suggest that you set up your business at somewhere else to avoid less market share due to overcrowded electronic repair shop.
Every country has their own trend where some of the people in certain countries prefer to get new equipment instead of sending it for repair. While to other countries their first option would to the repair first before getting a new unit. You have to make your own calculation whether if the repair volume in the market big enough for you to start your own business.
Mistakes No 2- Not enough customers before you start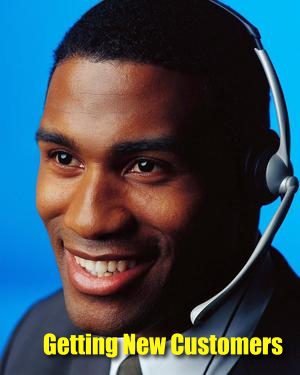 Most of the electronic repairers that I know have started the repair business when they already have quite a number of customers in hand. In fact me too before I start my own electronic repair shop I've already have many customers in my hand. Once you have the strong customer base and progressively getting good monthly income from the repair work then you can make a conclusion that it's the time now to set up a repair business on your own.
Getting new customers needs time and during this time if your financial back up was not enough and if the situation prolongs your business may have to wind up. However, if you have a strong financial back up (may be you have already made a saving for years) then you can ignore this mistake No 2 but most of the electronic repairers that I have met so far are not generally came from a very well to do family.
Mistake No 3- Did not listen to others in running a business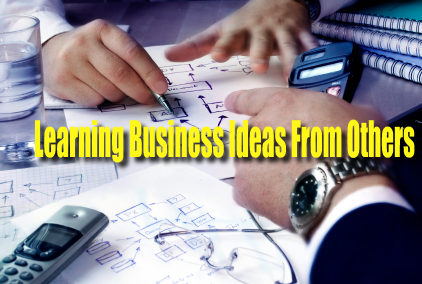 Although there are risks in running any business, however some tends to choose to try it out and see the result-that's fine. If your repair business in the infancy stage then I suggest that you ask some opinions/suggestions from those who are already successful in running a business (not necessary must be in the electronic repair line). Don't be too proud about yourself and your achievement instead be humble and there is always room to improve your repair business. Talk to them and ask questions and get ideas from them and you will be amazed when they share out their tips be in the sales or marketing tactics or even traps to avoid. For your information if there is no sales then there will be nothing happen in your company. Even though you are very good in electronic repair, since less people know about your existence, you would not be able to cover your operating cost. Your company need exposure and you must have enough equipment for repair in order to see profit.
Sometimes a simple idea could spark even a better way of running a business and bringing in more customers. Now, not everyone has a friend to turn to when running a business. In fact you can visit any bookstore to buy some of the proven sales and marketing strategies book to help you out in running a business and getting customers. By the way you are welcome to email me if you want to set up your own electronic repair shop.
Mistake No 4- Treating others like enemy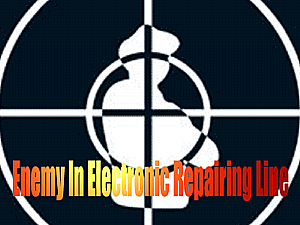 Again and again I have to emphasis on this matter. Why? because i personally had come across electronic repairer that do not like other electronic repairers in the same area. In other words they afraid of losing to their competitors! One of them told me it was good if the other repair shop go bankrupt! With that kind of mindset I guess it gonna be hard for him to go along with other electronic repairers too and I guess his experience limited to only what he discovers and not the extra input that he could get from others. Do you know that I got lots of good input from other electronic repairers? Good input like repair secrets/techniques, where to buy cheap spare parts, how to use the best way to solve a particular electronic problem and etc. Being a good friend to other electronic repairers only could bring positive result.
Although it takes couples of hour's everyday for me to support emails, I do not mind because through email support I have known many good professional electronic repairers out there. The time that I had spent with them was well worth. Once in a while I got secret tips from them and the repair knowledge in me got even better. I believe you too have benefitted from my blog post under "Electronic Repair Questions/Answers and Testimonials". Now let's imagine if I treat of all the emails as junk emails/enemy and deleted them as fast I received them. What sort of good input that I can gain if there is no two ways of communication? Just be friendly to those in the electronic repair line and you would not know may be one day when they share out their secret you would say "Wow" that's really cool!
Mistakes No 5- Blaming Your Competitors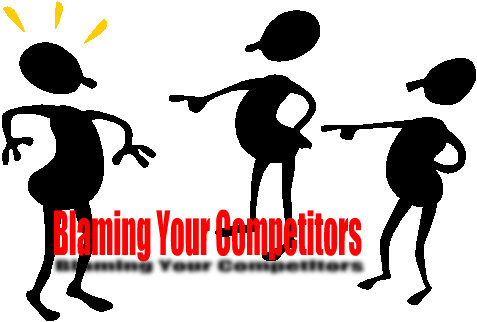 If you are losing out to your competitors, why not check yourself first before blaming on your competitors. Could it be that you take a very long time to complete a repair work? Could it be you are charging skyrocket high for the repair fees? Could it be your success of repair rate is low? Could it be you are not friendly enough and always show a long face to your customers and etc?
Take it seriously and analyze why your repair business had dropped. Call your customers and check from them and I'm sure some of them would be good enough to tell you why they are no longer using your services. You have the choice to call them to find out where went wrong or you have the choice of ignorance of not listening to others. I guess you will be in the losing end if you choose the ignorance choice.
Politely thanks them for the feedback as the feedback is one of the most important pieces of information from your dissatisfaction customers so that you will not make the same mistakes again like not friendly and etc. By listening well to your customers complain and make changes to solve the problem will only prolong the repair business and continue to reap good profits in many years to come.
Mistakes No 6- Did not invest in the things that you really need.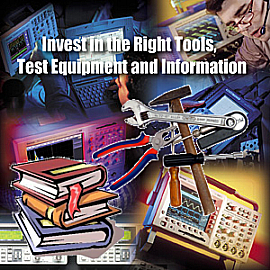 As already mentioned many times in my previous articles that gone are the days where you only depend on one or two test equipments to solve your electronic problems. In this competitive line one got to have the speed in solving electronic problems fast otherwise the customers may tends to choose to get a new unit if they had waited for a long time. Invest in the tools, information and test equipment that you can think of to solve electronic problems fast. All these would be pay back within a very short time if you are getting more equipment for repair.
Not only that your repair works must have good reliability too. If the equipment that you have repaired breaks down again few times within a week or a month then I guess you will surely lose that customer.
Mistakes No 7- Having a Wrong Mindset and Gave up Easily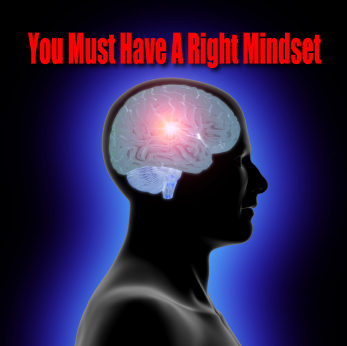 You have unrealistic expectations. You cannot simply set up a repair business and expect to make some fast money. Yes I will congratulate you if you could make money within the first month or so because some people are smarter and some people can learn things faster but generally it takes time to really see some real success in electronic repairing. Success involves on investment of time and money, taking calculated risks, building relationships with customers and etc.
If you don't see result within few months you tell yourself that you are going to close the shop. It is just too fast and you did not even give your company a chance to grow.
Don't give up and be persistent and have perseverance because "The City of Rome Was Not Built In A Day" and think back why you have failed in running the repair business. Ask yourself these questions:
1) Am I not getting enough customers- If yes then spend more time in your marketing effort.
2) Am I charging too high? Then adjust the repair fees accordingly to the market condition and be reasonable.
3) Am I too slow in repairing electronic equipment? Then invest in the things you really need (test meters, books, schematics etc) to boost up the repair rate.
4) And so on
Conclusion- I knew that all these mistakes that I have just mentioned may not be applicable to you as different person has different ways of running a business. What I want from you is to just take the one that you think could help you in your repair business. Learning from other people's mistake is in fact a gain for you because you don't have to go through it yourself and this will surely make your company grow stronger. Seeing your repair business grow in this time of economic difficulty (in fact more people opt for repair then getting a new set) is one of my desires and here again I wish you have a great success and Happy New Year-All the best!
Click here to learn how you can become a Professional in Testing Electronic Components
Click here to learn how you can become a Professional in LCD Monitor Repair
Recommendation:
Recommended Mr Kent LCD TV Repair Membership website-Visit Now!
Recommended Mr Kent Plasma TV Repair Membership website-Visit Now!
---